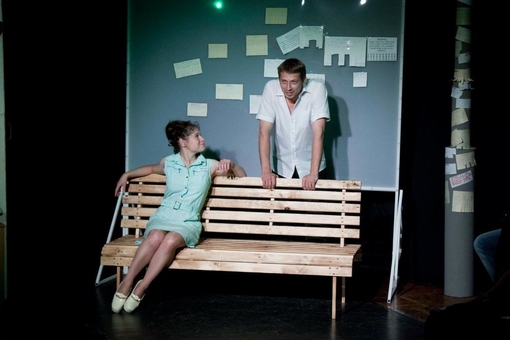 A strict judge comes out and sits down in the hall (in the first row) and begins his interrogation. There is a divorce proceedings; a difficult case - the judge wants to prolong the marital life of these brainless divorcing people, who present their applications for divorce to her every day. Tragicomic collisions suddenly turn into not very funny problems. This is Volodin's style: through the optional lightness there appears a cruel finale, through tears – there is a tiny but a chance for the future.
"Do not part with your loved ones" is an attempt to re-read the traditional text of a well-known play by Alexander Volodin. Director L. Lemenkova did not stop at the everyday content of drama, she, together with the actors, created a bright and entertaining playing space, where each character became also a symbol of some human quality.
Life, grotesque - many parameters of both the usual and experimental theater, have turned into a dynamic synthetic spectacle, where the words, plastic, music, color and light equally co-exist.
Directed by Larisa Lemenkova
Musical setting by Olga Selina
Choreographer — Svetlana Shchekotikhina
Cast
Judge — Lemenkova Larisa
Mitya — Kozlov Sergey
Katya — Simonova Elena
Irina — Ageykina Irina, Ikonnikova Oxana, Naryshkina Svetlana
Kozlov — Nezhentsev Mikhail
Kozlova — Bilyk Natalia, Grigoryeva Yulia
Valera — Artemyev Mikhail, Grigoryev Andrey
Model — Kozlova Maria
a woman — Valeria Zhilina
Kerilashvili Larisa — Bilyk Natalya, Grigorueva Yulia
Kerilashvili David — Litvintsev Dmitriy
Larisa's mother — Kozlova Maria
Belyaev — Nezhentsev Mikhail
Belyaeva — Kozlova Maria
Belyaeva's friend — Zhilina Valeria
Waiter — Litvintsev Dmitry
Mironov — Gromov Maksim
Mironova — Bilyk Natalia, Uzianbaeva Elvira
Shimilov — Litvintsev Dmitry
Shimilova — Zhilina Valeria
Nurse — Zhilina Valeria
Running time: June 17, 2010
Отправить сообщение или задать вопрос