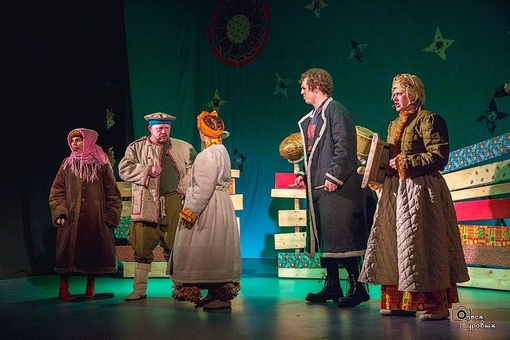 Our funny story is both for the little and for the grown ups!
You will all have a good laugh!
An old woman, an old man, a fox and a wolf – they all love to treat themselves to fish.
The fox's plan is cunning and simple – she wants the wolf to freeze off his tail.
Director — Honored Man of Arts of the Russian Federation Alexander Mikhailov
Designer — Maria Mikhailova
Choreographer — Svetlana Shekotikhina
Music — Sasha Mikhailov
Sound engineer — Svetlana Isaeva
Cast
Old man — Honored Artist of Russia Valery LAGOSHA
A horse, a wolf — Mikhail Nezhentsev
Old woman — Larisa Lemenkova
Fox — Honored Actress of Russia Margarita Ryzhikova
Crow, Dog, Baba with a rocker — Valeria Zhilina, Honored Actress of Russia Elena Shigapova
Running time: August 27, 2018
Отправить сообщение или задать вопрос