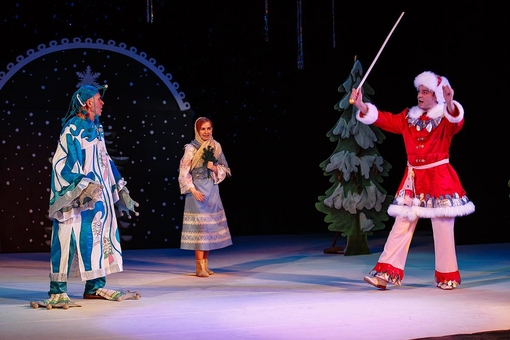 Fairy-tale, fantasy, eccentricity go away ... but they continue to live on stage. An evil stepmother (Baba Yaga) by all means wants her daughter Fekla to marry her stepdaughter Fenya's fiancé. To get rid of the rival Baba Yaga sends her to the forest. The water spirit together with the Forest spirit have a plan of their own: to find a beautiful bride for the Father Frost. But the Father Frost, however, does not seem to need any. The Water spirit falls in love with Fekla. And each of them receives what they deserve: Fenechka gets her Pantelei, Fekla stays with the Water Spirit. And Baba Yaga as a result returns to her loving husband, the Forest spirit.
As it should be, everything ends well in a fairy tale, all evil characters become good, all love ones get united. The traditional fairy-tale story turns into a living, modern and sincerely told story, full of funny and sad details, deep human meanings.
Why not see a fairy tale with friends or with parents? It's so interesting and fun! Have a good laugh and get smarter. Even if you are adults! Even if you are moms and dads!
Cast
Fenya — Elvira Kuznetsova
Father — Vladimir Krasheninnikov, Nikolai ROZHKOV
Fekla — Honored Actress of the RF Margarita Ryzhikova, Irina Ageykina
Mother — Honored Actress of the RF Nonna Isaeva
Forest spirit — Andrey Bukhmiller, Albert Maltsev
Water spirit — Oleg Kotov
Father Frost — Oleg Semichiev
Frost — Mikhail Artemyev
Pantelei — Andrei Grigoryev
Running time: July 11, 2018
Отправить сообщение или задать вопрос