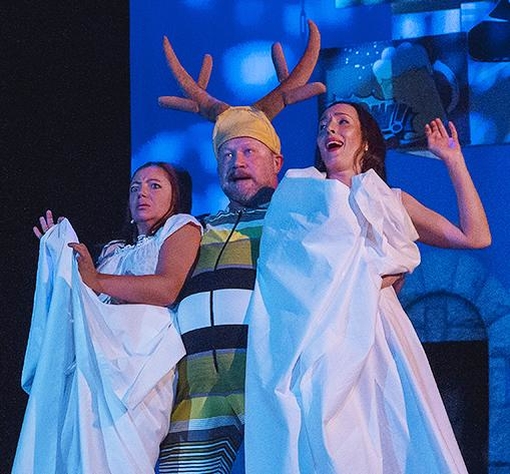 Merry and smart women against self-satisfied and self-assured men. William Shakespeare wrote a marvelous comedy on this collision where farce is combined with lyrics.
Sir John Falstaff awakened the women's energy and got a lesson from them. He had to admit his failure and refuse from his ambitious plans.
A new edition of the old play lets the spectators feel the wit of the famous bard who salutes us through the centuries and encourages to appreciate women.
Stage director — Honored Man of Arts of Russia Alexander Mikhaylov
Choreographer — Svetlana Shchekotikhina
Stage and costumes designer — Maria Mikhaylova
Singing tutor — Valeria Torgova Director's assistant — Marina Egurnova
Cast
Sir John Falstaff — Honored Actor of Russia Valeriy Lagosha
Mister Broad — Mikhail Artemyev
Mister Page — Albert Maltsev
Mrs Broad — Maria Kozlova, Asvetlana Naryshkina
Mrs Page — Irina Ageykina, Honored Actress of Russia Elena Shigapova
Judge Shallow — Vladimir Krasheninnikov
Slender — Maksim Gromov
Parson Evans — Yuriy Martyushin
Doctor Caius — Sergey Kozlov
Fenton — Andrey Grigoryev
Robin — theater student of Oryol State Institute of Culture Aleksandr Aksinenko
The Host of the Inn — Oleg Semichev
Bardolph — Stanislav Ivanov
Pistol — Dmitriy Litvintsev
Nym — Mikhail Nezhentsev
Simple — Vladimir Kozlovskiy
Ann Page — Yulia Grigoryeva, Elena Simonova
Mrs Quickly — Oksana Ikonnikova, Olga Chibisova
Rugby — Oleg Kotov
Running time: July 11, 2018
Отправить сообщение или задать вопрос