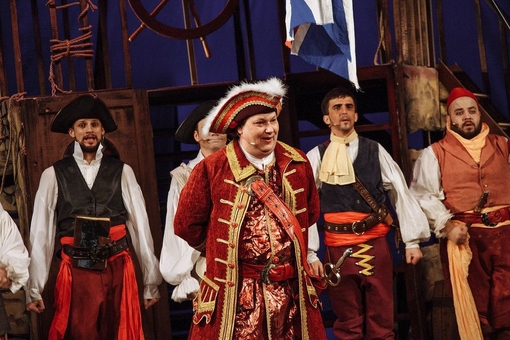 Who has not dreamt of sea travelling, dangerous adventures and finding treasures on a mysterious island? But no one knows where this island is ... No one, except Jim Hawkins, a boy who accidentally got the map of the old pirate Flint. Jim will have to reveal the pirate plot, save the team from imminent death, together with his companions become the owner of the legendary treasures, and most importantly understand that the most precious thing in the world is not gold and silver, but courage, braveness, mutual help and loyal friends.
Going to a dangerous adventure for the legendary treasures our heroes struggle with water, shoot, fight with swords, and masterly sing and dance ...
Everyone who knows the sense of real adventures and understand the changeable winds of wanderings will like our performance.
Director and designer of the show — Sergei Puzyrev
Choreographer — Svetlana Schekotikhina
Singing tutor — Valeria Torgova
Director's assistant — Andrey Skripov
Composer-arranger — Andrey Grigoryev
Cast
Jim Hawkins — Andrei Grigoryev
Dr. David Livesey — Mikhail Nezhentsev
Squire John Trelawney - Stanislav Ivanov
Captain Alexander Smollett, Billy Bones — Albert Maltsev
Blind Pew, Benjamin «Ben» Gunn — Oleg Kotov
Black Dog — Sergey Kozlov
John Silver — Nikolai Rozhkov
George Marry — Oleg Semichev
Job Anderson — Dmitry Litvintsev
Harry — Yuri Martyushin
Dick «Pastor» Johnson — Maxim Gromov
Dark — Mikhail Artemiev
Johnny — Vladimir Kozlovsky
Mary Silver — Russian violinist Elena Shigapova
Running time: August 27, 2018
Отправить сообщение или задать вопрос